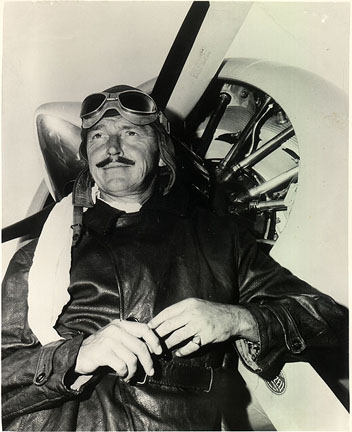 Frank Tallman loved old airplanes, the older the better. He thoroughly enjoyed flying the early wood and fabric biplanes and looking the part of 1920s aviator.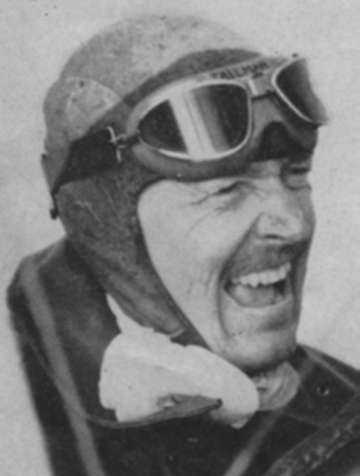 Frank Tallman, aviator.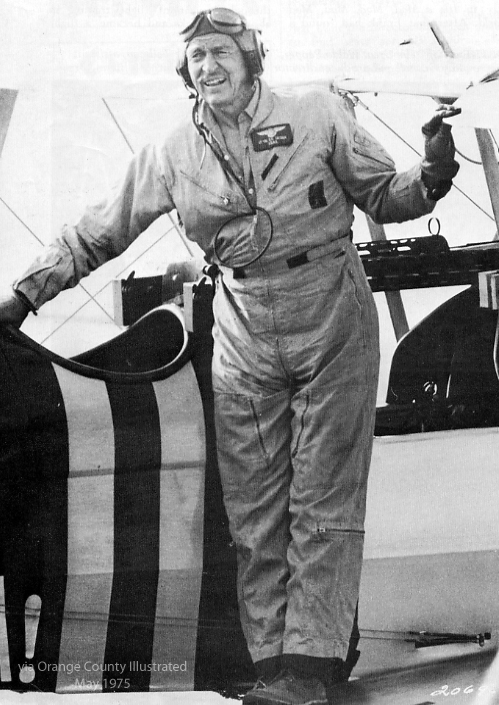 Tallman was able to master flying difficult airplanes with a prosthetic left leg, no easy feat given the rudder work required of early biplanes.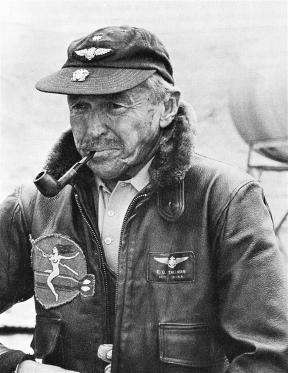 Frank Tallman in his later, post Catch-22 years.
Frank Gifford Tallman III was born on April 17, 1919, in Orange, New Jersey. He was the son of a World War I service pilot. He had aviation coursing in his blood with both his father and uncle serving as military pilots. He took his first flight on the lap of his father in 1924, at the tender age of five. He took flight training while a teenage and when World War II came to the U.S. in 1941 he was already and accomplished pilot. He first served as a civilian instructor for AAF cadets until the Navy finally accepted him for flight training when they relaxed their college requirements. He went on to train as a Naval Aviator and ended the war in a SBD Dauntless squadron preparing for combat.

In the post war years, Tallman nurtured his love for the early birds of aviation and, during the 1950s, had amassed a significant collection of pre-1920 aircraft. Operating from Glenview, Illinois, where he continued his military service as a Commander with the Naval Reserve, he started his collection in 1951 when he located and purchased four World War fighters, the remnants of Col. George Burling Jarrett's museum collection once displayed at Atlantic City, New Jersey. Held in storage in Maryland, Tallman purchased a Sopwith Camel F1, a Spad VII, a Lincoln replica Nieuport 28, and a Pflaz D.XII. He had the Camel flying by 1955 but struggled to get the other three airworthy, going to such lengths that, in December 1954, he offered either the Spad or the Phalz to anyone in the Antique Aircraft Association who would restore the other aircraft to flight condition. The Spad was traded away in the process, but it got the Phalz flyable by 1958.

Tallman added to his collection rare aircraft as they became available. In the latter part of the 1950s, these included a 1912 Maurice Farman biplane, a replica 1910 Bleriot monoplane, a Curtiss Gulfhawk, an Eastern FM-2 Wildcat, and a Goodyear FG-1 Corsair. In 1956 he gave up a short-lived career as a television network executive to concentrate on his first love, his old airplanes that held an increasing fascination with the public. A lean, lanky man, Tallman's handsome features and a neatly trimmed mustache fit well with his helmet and goggles and period flying clothes, and he looked every bit what everyone thought a dashing World War I aviator should look like. By 1959, he had moved to Southern California with his fleet of antiques, now numbering at least sixteen flyable airplanes. He based his company, Tallman Aviation, at Flabob airport, a colorful little country airstrip that still exists nestled in the hills between Riverside and Ontario, some thirty miles east of Los Angeles. Tallman was always ready for any movie or TV work that he could scrounge, his aircraft collection being unique, airworthy, and available, and he was also a steady airshow performer in demand across the country.

Just over the Santa Ana mountains to the south was Orange County Airport and Paul Mantz Air Services. Mantz remained the undisputed Hollywood Pilot, and he took the lion's share of the movie and TV work. Nonetheless, Tallman did occasional film work, though it was mostly television like a 1960 Twilight Zone episode. However, Mantz was looking for a partner and, while he was at it, he eliminated one source of competition by merging his operation with Frank Tallman in December 1961. Actually, Mantz was easing himself out of active movie flying, for when Tallmantz Aviation was incorporated, Frank Tallman was the company president. Mantz and Tallman worked well together, with Mantz having some Hollywood connections that Tallman lacked, and Tallman having the youth and enthusiasm to keep the new company moving forward. Tallman brought his fleet of sixteen-plus antique aircraft to the new company also, a boon when added to what Mantz had in the hangar already.

Tallman moved quickly into the forefront of film making, and in the first full year of Tallmantz Aviation was involved in several major projects including flying a B-25 cameraship for How The West Was Won and doing the several dangerous stunts with a Twin Beech for It's a Mad Mad World. The company remained busy and productive up until mid-1965 when a dual jolt of tragedy hit Tallmantz Aviation: Paul Mantz was killed flying a Tallmantz-built airplane for Flight of the Phoenix and Frank Tallman badly injured his left leg in a go-kart accident. A severe complication set in during the healing of Frank Tallman's left leg. At the same time Mantz was in Yuma trying to fly the "Phoenix," Tallman was offered a choice by his doctors: have his leg amputated above the knee or have it heal stiff and unusable. Both options rendered his future as a pilot in question, but he chose to have his leg amputated as he decided that option offered him the best possibility of returning to the cockpit and his livelihood. Months of rehabilitation followed, with him learning to walk again with his new artificial leg. Once that was mastered, Tallman set out to requalify for all his FAA pilot certificates, not an easy task given the precise rudder control required by his little open-cockpit World War I fighters. In a mark of his determination, he was ultimately successful and resumed his aviator status, an amazing achievement often overlooked because he made it look easy.

Tallman faced significant challenges beyond recovering from losing his partner and his leg. The company faced several lawsuits and had to settle the Mantz estate, and Tallman was forced to sell 45 aircraft from the Tallmantz collection to a Nebraska investment company in February 1966. With cash in hand, he was able to settle lawsuits and the Mantz interests, and move the company forward. Movie and TV work followed. In early 1967 Tallmantz agreed to provide one of three B-17s and a B-25 cameraship for the film 1000 Plane Raid planned for 1968. Then, a few months later, Tallman signed with Paramount Studios to provide eighteen B-25s, flight crews, and all the aerial filming services for Catch-22. With that substantial contract the survival of Tallmantz Aviation was assured.

One notable event occurred in the spring of 1967. Frank Tallman and his company were hired to build an exacting replica of Lindbergh's Spirit of St. Louis for the 40th anniversary celebration of his historic flight to be held in Paris, France, in May 1967. Tallman undertook the project and test flew the airplane in April 1967. It was then disassembled and flown via USAF C-141 to Paris where Tallman flew it during the ceremonies at the Paris Air Show.

In the early 1970s, Frank Tallman signed to provide the airplanes and aerial support of George Roy Hill's The Great Waldo Pepper (1975), which became the Tallmantz stamp on the 1970s. It was a labor of love as Tallman was able to utilize much of his antique air fleet for the film, including the Standard J-1, the Sopwith Camel, his Fokker Triplane, and his Jenny. Numerous pilots besides Tallman, such as Jim Appleby, Frank Pine, and Art Scholl, joined in the flying. Other 1970s filming projects conducted by the company included Frank Tallman's stunning Stearman flying in Capricorn One (1975), his efforts in the 1971 Murphy's War with a Grumman J2F Duck, and the Tallmantz participation in the television series Baa Baa Blacksheep (later Blacksheep Squadron) between 1976 and 1978. Frank Tallman continued to make air show appearances, and his aerobatic routine with the Grumman J2F Duck, performed at the Reno Air Races, was memorable.

But the continued success of Tallmantz Aviation was shattered on the stormy afternoon of April 15, 1978, when Frank Tallman flew a company Piper Aztec (N5641Y) into a mountain ridgeline located fifteen miles northeast of Orange County Airport. One a routine flight, Tallman had been trying to simultaneously pick his way though thick clouds and hard mountains under visual flight rules when he met his fate, Tallman's life was, as was his partner's thirteen years earlier, celebrated in a memorial service held a few days later and well attended by both entertainment and aviation worlds. A missing-man formation concluded the service. Tallman was laid to rest in the same memorial park on the coastal hills above Newport Beach as Paul Mantz.