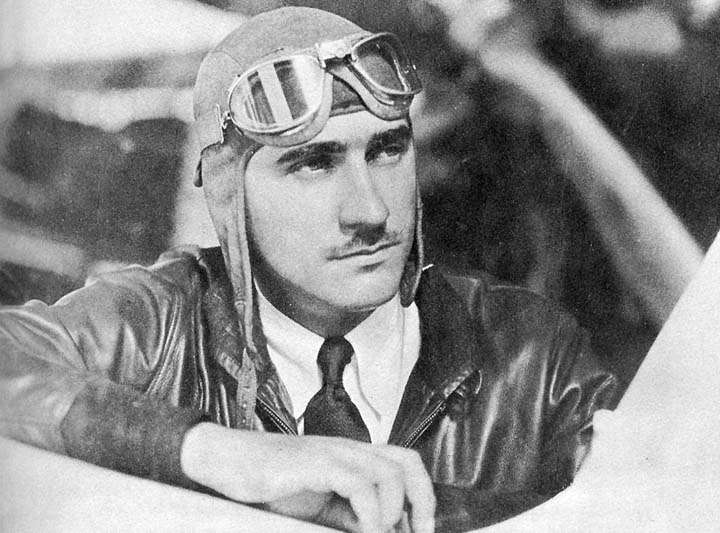 Paul Mantz in the early years evoked the image of a dashing aviator and, of course, he actually was one. This photo probably dates from about 1930 and shows Mantz in his late twenties as a up and coming Hollywood pilot.
Paul Mantz, left, with Amelia Earhart, Harry Manning, and Fred Noonan. The three on the right were the original crew for Earhart's March 1937 east-to-west round-the-world attempt that ended in disaster at Luke Field on Oahu with a takeoff accident. Ten weeks later, after the Lockheed Electra was repaired, only Earhart and Noonan were the crew for the west-to-east attempt that also ended in disaster. (Purdue University Libraries Archives and Special Collectons)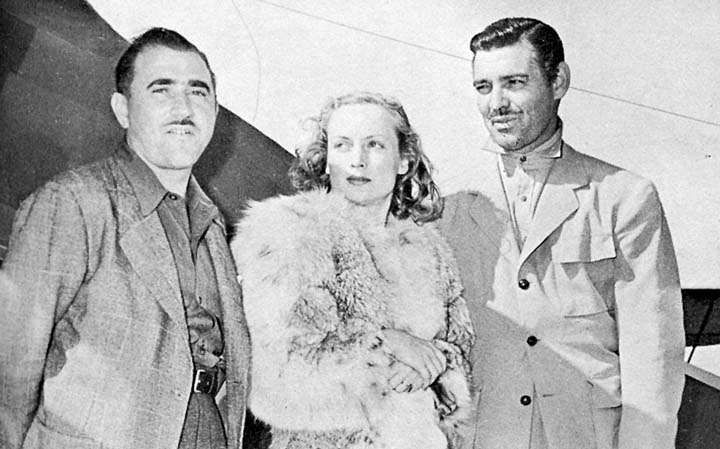 Paul Mantz moved with the rich and famous during the 1930s, 1940s, and 1950s, flying many of them in his discrete Honeymoon Express charter service to Las Vegas or Mexico. Here is Mantz with Carole Lombard and Clark Gable, probably around 1940.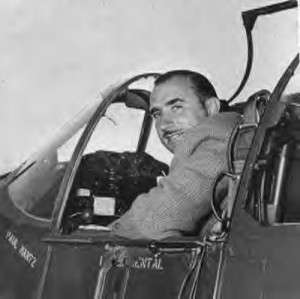 Who else but Paul Mantz would fly a P-51C Mustang racer in a suit and tie, and win Bendix races doing so? His only concession was a parachute, and one suspects if he had to bail out of the airplane he would make sure he looked good doing so. This photo dates from the 1946-48 period when Mantz was on top of the world, and it shows. The guy was classy.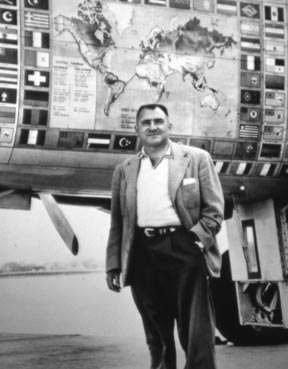 Paul Mantz of the mid-1950s with his famous B-25H, N1203. Mantz spent a good deal of time during that decade flying the world in the converted bomber, filming Cinerama and CircleVision projects. The map on the side of the fuselage documented the world-ranging trips flown by Mantz.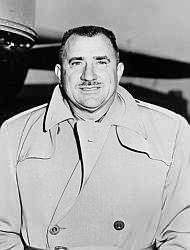 Another view of Mantz in the late 1950s...a few years older and few pounds heavier, and quite a bit wearier after a long but successful career. This was the Paul Mantz that was looking for a partner, one found in fellow movie pilot Frank Tallman.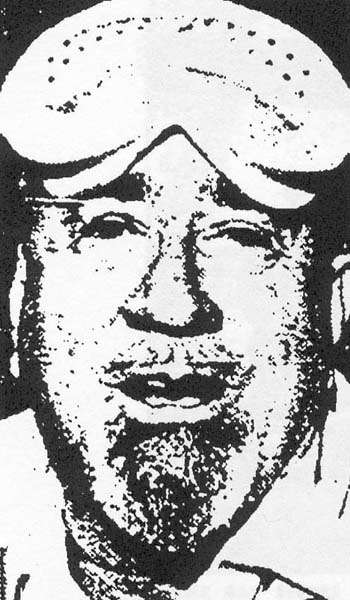 Paul Mantz on July 7, 1965, as he prepared for what became his final flight. The unshaven appearance sought to duplicate that of the actor he was standing in for in the flying scenes, Jimmy Stewart. The resemblence suffers, though, and Mantz looks tired and worn out from the efforts made to put the flying Phoenix in front of the cameras.
Paul Mantz is arguably the most diverse and prolific pilot Hollywood has ever seen, or will ever see. This claim is based upon his longevity in the business...over 35 years; his hundreds of film credits for both flying and filming; his integral part of the "Hollywood" scene as a friend and colleague of many of its best known players from the 1930s through the 1960s, his noteriety gained from air racing and as Amelia Earhart's technical advisor; and his business acumen for running a very successful flying business for nearly four decades. It is a record that, in all likely reality, could never be matched. Today's film and television output is but a tiny fraction of what was generated in film's heydey, and today's filmakers rely much more upon CGI, or computer generated effects, as cheaper, easier, and safer to produce. Also, a safety-conscious environment precludes some of the, let's say, more daring stunts performed by pilots like Mantz in earlier years. The thrill of aviation has also passed, and with it the attraction of purely aviation based films. So Mantz truly is a legend in the very specific industry of movie flying, but one that is sadly fading into history. In the nearly half-century since his 1965 death, few physical remanants of his work remain. Gone is his company and his airplane collection has been cast to the four winds. His famly, his descendants, remember him in their own way, but for most of us his legacy remains in the film work he so expertly did all those years ago.
For Albert Paul Mantz, born in August 1903, at Alameda, California, the flying bug bit the same way as it did to many of the kids born in the first decade of aviation...he saw an airplane. Mantz took his first flying lessons in 1919 and flew sporadically until 1924 when he began to pursue flight seriously. He applied for and became an Army aviation cadet, reportedly having to falsify college documents, and almost completed his Army Air Service training in 1927 but for an impromptu but exciting buzz job that got him kicked out of the training program. He eventually started his own flying and charter business, named United Air Services, at the United Air Terminal at Burbank, California. In July 1930 he set a world record of 46 outside loops flying a Fleet 2 biplane, and soon started flying for the movies. He married one of his flight students, Myrtle Harvey, on May 2, 1932.
Early jobs for him included work on Air Mail for Universal Studios in 1931, in which he flew a biplane through a hangar, and Here Comes the Navy for Warner Brothers in 1934. Mantz recognized that opportunities existed both in front and behind the cameras and began developing camera mounts for planes and perfecting his ability to put a director's camera where it needed to be for just the right aerial shot. By the late 1930s he was certified as an aerial director and utilized several specially modified camera planes for the Hollywood studios, among them his Boeing Model 100 (N873H) and his Lockheed Orion (N12224). Though his exploits in front of the camera were notable enough, it was this skill in flying the planes that held the cameras that became his specialty. His work on such films as Test Pilot (1938), I Wanted Wings (1941), and Air Force (1943) concentrated on designing intricate aerial scenes and then working with key aerial cinematographers to capture on film what the directors needed for their movies.
In late 1934, Mantz became Amelia Earhart's technical advisor. Earhart, a pioneering female aviator, had enjoyed some success in being the first woman (though effectively a passenger) on a trans-Atlantic flight in 1928, and then the first woman to fly the Atlantic solo in May 1932. She had done so in a Lockheed Vega, 5B (N7592, msn 22), she purchased in March 1930, and continued her record setting with a transcontinental flight from Los Angeles to Newark flight in August 1932. She purchased another Vega, 5C NR965Y (msn 171), and enlisted Mantz as her technical advisor. Under his tuteledge and planning, Earhart accomplished a January 1935 Hawaii-Oakland solo flight and, three months later, a flight from Los Angeles to Mexico City.
Mantz's marriage to Myrtle suffered from his frequent absences, the lifestyle he maintained with both the Hollywood set and his work with Earhart, and some basic insecurities of his wife. When she filed for divorce in 1935, she made very public allegations about the relationship between Mantz and Earhart, though Mantz always maintained that only a professional relationship existed between he and Earhart, and no evidence has come to light that suggests otherwise. A divorce was granted in 1936 after an acrimonious trial.
Meanwhile, in May 1935, Earhart flew from Mexico City to New York, another record setting hop. In September 1935, she and Mantz flew her Vega in the Bendix transcontinental race, coming in last amongst the finshers, not surprising given her aircraft's speed performance. She matched that performance the following year in the 1936 Bendix. But shortly before that 1936 race she had taken delivery on a new Lockheed 10E Electra (NR16020) and, with Mantz as instructor, received training to fly the airplane. A round-the-world flight was planned for the spring of 1937 with Mantz and Earhart arranging for modifications to the Electra for additonal fuel tanks and navigation equipment. On March 17, 1937, Earhart, Mantz, and navigators Fred Noonan and Harry Manning, departed Oakland for Wheeler Field in Hawaii, on the first leg. Upon departing Hawaii for Howland Island, however, on March 20, the heavlily-loaded Electra, with Noonan and Harding aboard, ground looped and a landing gear collapsed. The flight had to be aborted as the Electra was disassembled and shipped back to Lockheed at Burbank for repairs. Those repairs were completed on May 19 and Mantz and Earhart test flew the aircraft the next day on a flight to Oakland and back. That night Mantz left Burbank to participate in a competition in the mid-west. Apparently unbeknownst to him, Amerila Earhart and Fred Noonan, along with McNeeley and Earhart's husband, George Putnam, quietly departed Burbank on May 21, on what became the first leg of their second attempt at the round-the-world flight, this time traveling from west to east. Earhart and Noonan departed Miami on June 1, heading eastward over the South Atlantic. They progressed successfully as far as Lae, New Guinea. The departed Lae on the morning of July 2, 1937, and never landed at Howland Island. Their fate has remained an unsolved mystery to this date, though one suspects it was simply getting lost and running out of gas. Mantz remained at the center of the frenzy to find her, and through the years he grew increasingly frustrated as the stories and fables about her last flight became more and more bizzare. Why Earhart apparently left Mantz in the dark as to the details of her final trip, and what his advisor status was at that point remains unknown.
In the midst of working with Earhart and getting ready for her first 1937 attempt, Mantz was dating a woman named Terry Minor, the widow of friend and fellow aviator Roy Minor, who had died in 1935. Terry was in Hawaii with Mantz in March 1937 during the first aborted Earhart attempt. He married Terry on August 19, 1937, six weeks after Earhart disappeared. Mantz adopted Minor's two children, Roy, 9, and Terita, 7. Their son, Albert Paul Mantz, Jr., was born on August 21, 1938. Roy Mantz later bacame a naval aviator.
As the 1938s ended and the 1940s began, Mantz continued his movie making exploits, though the shift toward the military buildup was reflected in the movies he worked on. During this period he flew airplanes or cameras for Coast Guard (1939), Flight Command (1940), Flying Cadets (1941), and A Yank in the RAF (1941), to name just a few. After Pearl Harbor, Mantz continued to make military-themed films for a year or so, aiding the war effort in the production of such films as Flying Tigers (1942) and Thunderbirds (1942). In 1943, his abilities were put to direct military service when he was commissioned as a major in the Army Air Forces and attached to the First Motion Picture Unit (FMPU) based at Culver City, California. He joined such notables as Ronald Reagan, Clark Gable, and William Wyler in producing training and propaganda films for the military. He ended his service in 1945 as a lieutenant colonel and commander of the aviation unit for the FMPU.
After the war, Mantz made headlines by purchasing 475 surplus warplanes from the U.S. government. Most of the fighters and bombers, located at Stillwater, Oklahoma, were eventually salvaged for fuel and parts. The remainder were disassembled and shipped on flat cars to St. Louis where they were smelted for aluminum. First, however, Mantz culled out some special airplanes, three of which served him well in the post war years. A brace of two blood-red P-51Cs, NX1202 and NX1204, enabled him to win the first three post-war transcontinental Bendix Air Races, and his B-25H, sandwiched in at NX1203, was to become his famous Cinerama photo plane. Paul Mantz Air Services, his renamed company, was still at Burbank and thrived with activity as Hollywood continued to come calling. One memorable job was performing the B-17 belly landing that opens the film "12 O'Clock High" (1950), a scene shot at Ozark Field in southern Alabama in June 1949.
Mantz's national air racing exploits had begun in 1935 when, as noted earlier, he flew as an advisor with Amelia Earhart in the transcontinental Bendix race. He competed again in the 1938 and 1939 Bendix Trophy race, flying his Lockheed Orion and taking third in both events. He enjoyed more success in the first three post-war races, fielding two war-surplus P-51C Mustangs and winning the 1946, 1947, and 1948 events. He then retired from racing, letting his convincing record stand.
Mantz and his family lived on Balboa Island in Newport Beach and he commuted daily to Burbank, flying from the sleepy little Orange County Airport located on the northern bluffs behind Newport Harbor. However, in May 1951, Mantz leased several acres at the southeastern corner of Orange County Airport. At that time, he announced that he would shift his Paul Mantz Air Services from Burbank to his new facility. Significant in the announced move was Mantz's stated intention to open an air museum to display his collection, agreeing to pay 10 percent of the gross revenues to Orange County as part of the lease agreement. It was also expected that Mantz would bring significant motion picture production work to the airport.
However, no museum would open in that decade, Mantz remaining busy with film and other industry work. Mantz and his B-25H cameraship were hired for the filming of several three-camera Cinerama productions including This is Cinerama (1952) and Seven Wonders of the World (1956). Mantz and his B-25 were also used for filming many of the Disney nine-camera CircleVison productions beginning with America the Beautiful for 1958. Dozens of flight hours and months of time were taken for each of the continent and world-ranging projects. While Mantz had a stable of pilots he could call on to assist him, among them his long time chief pilot Stan Reaver, by the late 1950s Mantz was looking for a business partner. He admitted he was wearing out even as his business thrived with an increasing amount of film work, government research programs, developmental work with fire-fighting air tankers, and the challenges of running a complex business.
In 1961, Mantz merged his flight operations with Frank Tallman, retaining the Orange County base and incorporating Tallman's extensive aviation collection. Tallman, sixteen years his junior, took a lead role, becoming president of the new corporation. Mantz was in an unannounced semi-retirement but continued to contribute to various Tallmantz projects. He and Tallman worked closely together to develop the billboard stunt for It's a Mad Mad World in 1962 and Mantz also helped film the final Cinerama production How the West Was Won the same year. The Movieland of the Air museum opened in 1963. Mantz's Hollywood connections were invaluable and he continued to play a behind-the-scenes role even as he took on fewer and fewer actual filming roles.
After Frank Tallman injured his left leg in a go-kart accident in May 1965, Mantz stepped in to fly the Tallmantz-constructed aircraft for the film Flight of the Phoenix. As detailed elsewhere, the airplane performed marginally at best, and Mantz was killed in front of the cameras on July 8, 1965, during a simulated takeoff from the desert floor near Yuma, Arizona.